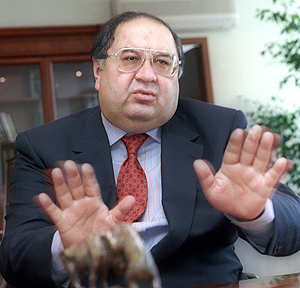 Ex-Arsenal vice-chairman David Dein has sold his 14.5% stake in the club to a firm co-owned by a
Russian billionare
.
The involvement of Alisher Usmanov, who paid £75m for the holding, adds to pressure on the club's board to give in to a takeover.

Mr Dein has been named chairman of the firm, Red & White Holdings, allowing him a way back into Arsenal.

He left the board after it failed to back his plan for the club to be taken over by American Stanley Kroenke.
Red & White said it felt it crucial that manager Arsene Wenger stayed at Arsenal as he was "vital to the future success of the club".
Mr Dein, a close ally of Mr Wenger, said the club needed people or consortia "prepared to invest previously unimaginable sums aimed at winning the game's biggest prizes".
He added was "delighted" to have found investors who shared his vision for the club.
"I have always had the best interests of Arsenal at heart. I've had a love affair with the club since I was six," he said.
WHO IS FARHAD MOSHIRI?*Majority shareholder in Metalloinvest, a Russian mining and metallurgy firm*Share portfolio includes holdings in Russian business newspaper Kommersant and mobile phone firm Megafon*General Director of Gazprominvestholding, investment arm of Gazprom*Heads the Russian and European Fencing Federations
So a rich russian wants to take over Arsenal with David Dein.
Good idea or bad idea - im still undecided?